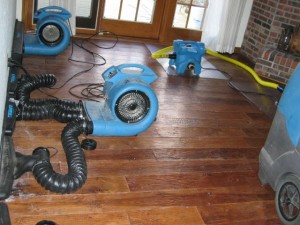 Water damage can be caused by leaking drains, leaking pipes, leaking showers or burst pipes. Escape of water claims can involve minor damage to flooring or extensive damage to floor slabs. We provide a specialist leak detection service to locate these leaks and therefore minimise the extent of excavation and repair work. It is important to know that domestic insurance policies have limited trace and access cover.
Advance Maintenance Limited offer clients an experienced and efficient team to deal with your home or business insurance claim. As general contractors and insurance company approved contractors we are experienced in dealing with insurance companies and our systemised approach to claims ensures a quick and responsive service to water damage repair claims. We can reduce insurance claim life cycles with a quicker response to your water damage restoration needs.
Repair and Restoration Service
As part of our comprehensive service, we employ efficient water restoration drying techniques to help prevent costly secondary damage causes such as mould, mildew, damp and odour issues. We will work with your Insurance company to confirm your cover and give estimates of costs to have your property restored to its pre-incident condition. We provide a fully managed building repair service for all water damage insurance claims covering all trades.
General Building.
Electrical Repairs.
Heating and Plumbing Repairs.
Joinery.
Roof Repairs.
Plastering and Tiling.
Interior design and d'cor.