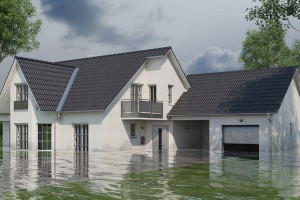 If your home or business gets flooded, it can be an extremely trying time. The whole situation is extremely stressful, but you have to act fast and call in a professional flood damage repair company as soon as possible. The quicker you are able to find a suitable company and they can get started on their work, the better. The longer it takes them to get onsite the greater the overall extent of the damage and the higher your repair bill will be. Here are 2 tips for choosing the best flood damage repair company to help mitigate the damage.
1: Experience With Insurance Policies
Flood damage can be very costly if you are forced to foot the entire bill yourself, but many homes and businesses around Ireland are covered by their insurance in the event of a flood. When selecting a flood damage repair company, make sure that your insurance company recognises and approves them before they begin any work. If they aren't approved by your insurer and your policy covers flood damage, keep searching until you find a company that's the right fit. The company you select should also have extensive experience in dealing with insurance companies and policies so that they can help you through the whole process as it can be complicated, especially when you are new to it.
2: Choose A Company That Acts Fast
In the event of a flood, every minute that goes by without any action being taken causes more and more damage. You should always choose a company that is willing to act fast, immediately if possible. If you make contact with a company and they say it will take a few days or a week, move on to the next company as that will be too late to stop the majority of the damage. A fast response is always a crucial component when attempting to mitigate flood damage.
When choosing the best flood damage repair company to help you, ensure they are approved by your insurance company, have a lot of experience dealing with claims and know how to accelerate the process. Also, you should always choose a flood damage repair company that responds quickly to minimise the amount of damage caused.
If your home or business has been flooded and you need help, contact Advance Maintenance immediately by visiting us online or by calling us on 021-486-6133.