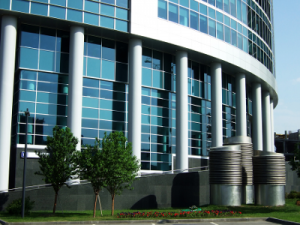 Facilities management is an important aspect of the proper functioning of any organization. The difference between a good and a bad facilities manager, or even company, can be staggering. Good management means that everything runs as efficiently as possible. Bad management might still produce results, but at great costs and resources.
There can be a huge difference in responsibility, as well. Just because something is done according to the rules, doesn't mean that the job has been properly conducted. This is a sad truth, but a truth nonetheless. Many facilities managers "wash their hands" of their responsibility by doing things "by the book", but proper management requires so much more. However, the battle is not lost. Things can always get better. For this reason we've compiled a list of tips for improving the quality of facilities management in the Cork area.
1. Ensure that the maintenance workers follow safety procedures
Way too often maintenance workers decide to take shortcuts in the procedures and do so in the interest of saving time by sacrificing safety. Management should never allow this to happen. If something breaks down and needs repairs, proper safety protocols have to be executed each time. Cutting corners is dangerous and may lead to severe complications, further damage to the equipment, or worst case scenario – injure the worker. Because they believe in their own expertise, workers often underestimate the importance of safety, but no matter how good one is, there are any never guarantees. Good facilities management means that proper safety procedures are always followed, even if it means that the work of the entire facility is slowed down. This saves a lot of headaches in the long run. If you're working with a facilities management company in Cork, make sure that they always follow safety requirements.
2. Check test equipment and ensure proper labeling
This should go without saying, but proper labeling is required for things to work out as they should. This especially includes the electrical panels. If changes happen around the facility, but they don't get reflected in the appropriate labeling system, then potential damages and problems may occur. Especially when it comes to electricity, things get dangerous. A technician might be led to believe that they've turned the power off before they start working on the circuits. In the interest of saving time, they might not double check things before they start working, and accidents might happen. For this reason, routine labeling inspections should be conducted by the facilities management company or personnel. It's better to be safe than sorry.
Things are pretty much the same with test equipment. It should be routinely inspected in order to ensure that it works properly. If it doesn't, then it should either be fixed or replaced. However, this can't really be known in advance without performing regular check-ups.
3. When hiring a facilities management company, make sure they're available 24/7
It's a common practice to outsource facilities management in Cork to a company that specializes in these types of services. One of the most important services of such a company is that they should be available 24/7. You never know what might happen in your facility and when emergency repairs will be required. There's no point in paying for a service you're not sure you can get at all times.
In the event of an emergency, it's nice to know that you can always count on the company you've chosen. It's crucial that they're trustworthy and work with your best interests in mind. You can check this out with planned maintenance services. Planned maintenance is an important aspect of the whole endeavor, and a good company would always work in conjunction with you and follow the best recommendations in order to produce the best results, keeping your interests in mind.
A company should always be available for minor works, as well. Sometimes small things require fixing or changing, and you should be certain that you can count on your company to cover that for you when it's needed. All in all, look for companies that care about your needs, not just their profits. After all, you would be placing enormous trust in the facilities management company you hire.
4. Solutions specific for the facility
Facilities management is an interdisciplinary field, meaning that it's complex and involves several different disciplines. This is due to the fact that it covers a wide variety of areas. Add that to the fact that different facilities have different needs and you have something rather interesting on your hands.  That's why you should always look at management in the context of a particular facility. There are universal principles involved in regards to managing a facility, but there are also requirements that are highly specific. If you're a facilities manager, you should always pay close attention to the details concerning your facility. In case you're hiring a company for that, make sure that they tailor their approach and don't just do the same thing wherever they go.
Conclusion
Proper facilities management is not easy, though the Cork area offers some pretty affordable options to take that responsibility off your hands. There are many things that one needs to pay attention to in regards to management. The fact that there are rules and regulations doesn't guarantee anything. Workers often disregard those rules, so a good manager should always put safety first and ensure that these regulations are being followed.
Labeling and test equipment are two areas where the ball is likely to be dropped, especially after doing some renovations in the building. For the sake of safety, routine inspections and check-ups should be scheduled in order to make sure that everything is fine in this regard.
If outsourcing, it is advisable to perform proper research and ensure that the company is available 24/7. There's a lot that might go wrong and you need to know you can count on them at any point in time. This is not to be underestimate.
Finally, look for solutions specific for your facility. If all these tips are implemented, facilities management will be much easier and much safer.
To discuss your Facility management needs with us please call us on 021 4866133.