Storm damage is becoming more and more frequent these days, this is due to both climate change and there simply being more properties around to get damaged as areas become more built up. Storms can leave your home or business with no electricity, broken windows and even holes in your roof. It's crucial to make an effort to rectify the situation as soon as possible to limit any further damage that may be caused by the issues going untreated.
With any type of storm damage it's important to consult a trusted repair company to assess the damage. The type of company you count on to get you back on your feet should be one that can effectively deal with all of the eventualities that are mentioned above as well as any surprise headaches. This will save you time and money as they will be able to quickly assess what needs to be done as well as ensuring everything is properly fixed. Hiring experts means that you can get back to business as usual as fast as possible.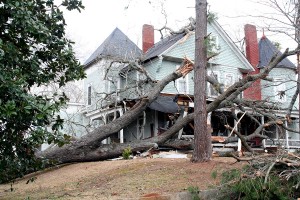 Another important thing that should be considered when selecting such a maintenance company is how they deal with you and your insurance companies. They should be willing to help you in your home or business insurance claim. If they haven't done this before then it's unlikely they have repaired a homes or businesses storm damage in the past. This inexperience could lead to oversights when assessing damages, leaving you with a costly bill down the line due to their negligence.
It's common to not have a company that springs to mind right away when you suffer storm damage to your home or business. When you do get a few names of companies that might be able to help you should always go to their websites and look at their customers testimonials. If the website has no testimonials it's likely that they either don't care what their customers say or don't want you to see what their previous customers have said about them.
These few tips for picking the right company to repair your storm damage should help you ensure you pick the right people for the job.Here at Advanced Maintenance Ltd we can repair all kinds of storm damage to your property in a prompt and professional fashion. We take the headache out of dealing with your insurance company by helping you deal with them. We also have an excellent reputation due to the high standards we hold ourselves to and our concern for our customers. Just check out our testimonial sections.