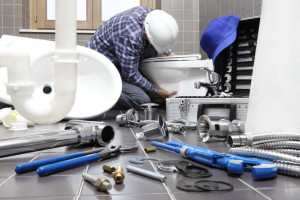 Most people look for a plumber when a plumbing emergency strikes in their home. The last thing you want to be doing at the time of an emergency is spending time researching and finding a good plumber. If you know what to look for, the whole experience will be much quicker and easier for you. There are a variety of things you should look out for when choosing a plumber to ensure you're getting the right professional for the job. Here are 2 things to look out for when picking the right plumber.
1: Online Presence
Looking online is a great way of discovering a wide selection of plumbers. A quick search will bring up plenty of results, however, with so much choice, it can be tough to choose the best option for you. Having a website or different social media channels gives people the chance to see how they work, what they offer, their knowledge and makes contacting them a lot easier when you have a problem. Having a blog with useful information and tips is often a great indication that they are professional, knowledgeable and willing to help customers. A blog with useful information and advice shows they are willing to share what they know with their audience as well as that it shows they are open to attracting further business and growth. If they have no website or one that doesn't include adequate information about their services then you should do a deeper research into them to find out how reliable they are. While a lack of online presence doesn't necessarily mean they are a bad plumber, it does make it a lot more difficult to build a picture in your head of what they are like to deal and work with.
2: Qualifications/Experience
One of the most important things to look out for when choosing a good plumber is their qualifications and experience. Professional plumbers have to do different academic and industry training and pass various industry tests to carry out their work. Their accreditations and certifications will determine the work they are able to carry out. They should be licensed meaning they are registered by a governing body, however, many of them work without a license. Most homeowners assume every plumber needs to have one, so this question is always worth asking, you shouldn't just take the plumbers word for it. Experience is also very important on top of qualifications. You should always find out how long their plumbing business has been in operation. Check and see what experience they have and how long they've been working in the trade. Also, you should see how many years experience the person who will be carrying out the work has. It takes several years for most great plumbers to acquire their knowledge and skills. The existence of the plumbing service is a great measure of how reputable they are. You want an experienced plumber capable of handling your needs. The more experience a plumber has, the more likely they are to get the job done right the first time.
If you ever experience a plumbing emergency, hiring a professional to fix the problem is the best option. Knowing what to look for in a plumber before hiring one can make dealing with a home disaster so much easier. Call us now on 021-4866133 or visit us online today.