Electricity is a resource that is extremely important to us in our daily lives. No matter what kind of business or property you own, it is a key part of your operations. Electricity can be taken for granted in the modern world. It is very important to remember that electricity and electrical systems are and can be extremely dangerous if not taken care of properly. Safety should be your biggest concern as a home or business owner. All business and property owners need to ensure that their electrical systems are maintained properly so that they can be safe and reliable for themselves, their employees and/or their tenants.
The quality and operation of any electrical system are important. It can be easy to forget about the wiring behind the walls and sockets, assuming that everything is in working order. If your electrical systems and appliances seem to be working fine, there could still be serious problems that are developing with any part of it. An unseen issue with your electrics is a safety hazard to you or could be draining your finances unnecessarily. That is why it is important to keep your electrical appliances and outlets regularly maintained.
Apart from the clear dangers poorly maintained electrical systems and appliances bring, there can be other more serious issues that can have horrible consequences. How regularly and effectively a company or person carries out electrical maintenance can be the difference between life and death. For example, if a fire breaks out in the property it is critically important that the lighting is still working to facilitate people evacuating the building.
Proper installation and maintenance are very important in both commercial and residential facilities. Faulty electrical wiring that is not attended to immediately can result in a greater danger like a fire or even electrocution. Hiring a fully qualified professional is crucial in the proper installation and maintenance of electrical systems and appliances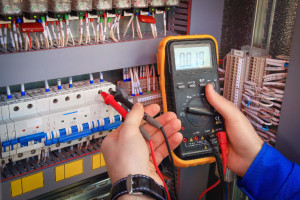 . This is evident in situations like complicated wiring which would require high levels of skill, only professionals are able to do the work clean and safe.
By doing a regular electrical system check for any small or big issues you will eliminate any problems which may arise in the near or distant future. To book an electrical maintenance, call us today on 021-486-6133 or visit us online to see more of the different services we provide.